Over the years I have been approached on several occasions about the possibility of renting out antiques to use as film, television, stage or advertising props and on most occasions have agreed to hire out selected items. In the past I have rented out a childs rocking crib for the remake of the film about Anna Karenina staring Keira Knightley. A Georgian desk for the detective television programme Vera, based in Northumberland and staring Brenda Blethyn as the female detective Vera Stanhope.
At the end of last year I sold a ladder to use in the stage play that is presently showing in the West End of London, "Peter and Alice" , for the Library scene staring Dame Judy Dench and Ben Wishaw - it can be seen in the photo below as it appears on the stage.
Spot the "Ladder", a supporting role !!!!
The most recent television programme for which I have rented antiques out is Inspector George Gently that is being filmed in Durham and Newcastle staring Martin Shaw. The scene they have hired furniture and lights for is a study - about eleven assorted pieces suitable for a library have been taken to help give the setting a truly authentic look. Three members of the film production crew came along with a plan of the house and decided on the look they wanted and which pieces would be suitable for the set. We then agreed how long the pieces would be away for and when they would need to be delivered to Durham and returned. It's a good arrangement all round - they can borrow period pieces to give the scene the particular look they require, I get some rental income and at the end of the week I still have the items to sell again and with added "Provenience" to boot!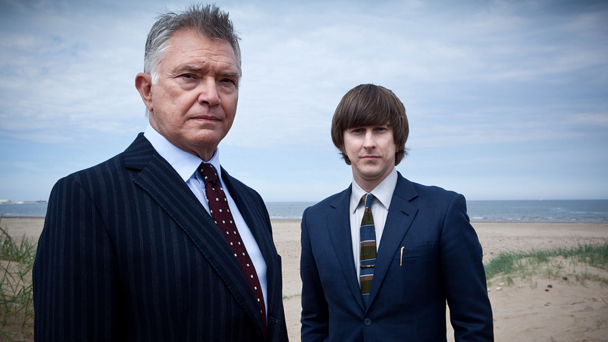 Martin Shaw (Inspector George Gently) and Lee Ingleby (Bacchus)
I will report in the next Blog which items we rented out and how it all went.
Graham
Graham Smith Antiques has been established for 14 years but Graham has been in the antiques business for 40 years. We trade on line and from showrooms on the edge of the city of Newcastle upon Tyne, UK and all the items shown on the website are available to view at the showrooms where they are displayed in four room settings - for ease of viewing. As long time members of LAPADA [the Association of Art and Antiques Dealers], the UK's largest trade association for professional art and antiques dealers, we want all our customers to be confident to buy from us on line or in person and make every effort to make each sale a pleasure. Please take some time to read our
Testimonials
page which can be found on the home page of our website.