Recently I have had two short visits to the
National Museum of Scotland
in Chamber Street Edinburgh and a great experience it is to.
I made my first visit to Chamber street about 30 years ago with a group of friends and loved the look of the building. The Museum was constructed between 1861 and 1888 and part of it opened in 1866. It was designed by Captain Francis Fowles of the Royal Engineers who also designed the Royal Albert Hall in London. The building is in the style of Venetian Renaissance with the large cast iron Grand Gallery very similar to Crystal Palace
The main entrance
The Grand Gallery used to have fish ponds in the centre but after a recent refurbishment they are no longer there - perhaps taking the Gallery back to its' origins because fish ponds were not part of the original design.
Several years ago June and I were at a fund raising dinner in the Grand Gallery hosted by the Princess Royal Princess Anne, to raise money for Carers in Scotland. When the Royal party entered they were piped in by a troop of military pipers who were in the upper gallery, it sounded fantastic.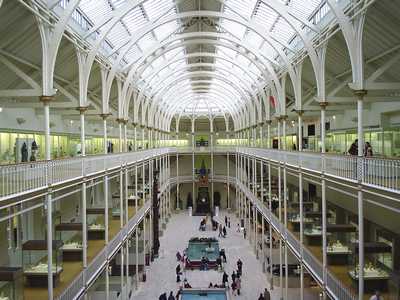 The interior of the Grand Gallery when they had the fish ponds
In 1998 a new wing was added to the Museum and the old part became the Royal Museum and the new Museum of Scotland. Prince Charles resigned as patron of the Museum because of the controversy over the design. It holds a large collection of articles from the history of Scotland, although the items appear to be in what I would describe as a random order at times, it's all very interesting.